Solid surface
Only the best possible materials of the highest quality are used to produce our products. Our production facilities are located in Germany, Italy and The Netherlands. That's our way to ensure a high quality and life-time enjoyment.
Out of the different solid surface brands on the market, Not Only White selected Himacs® and Velluto® biobased as premium solid surface brands to work with. On request we also produce in Corian®.
Himacs®
Himacs is an acrylic based solid surface material. It consists of an acrylic mass that is bonded together with 75% natural minerals and pigments.
Himacs is a homogeneous and non-porous material, which makes the material very hygienic and easy to clean.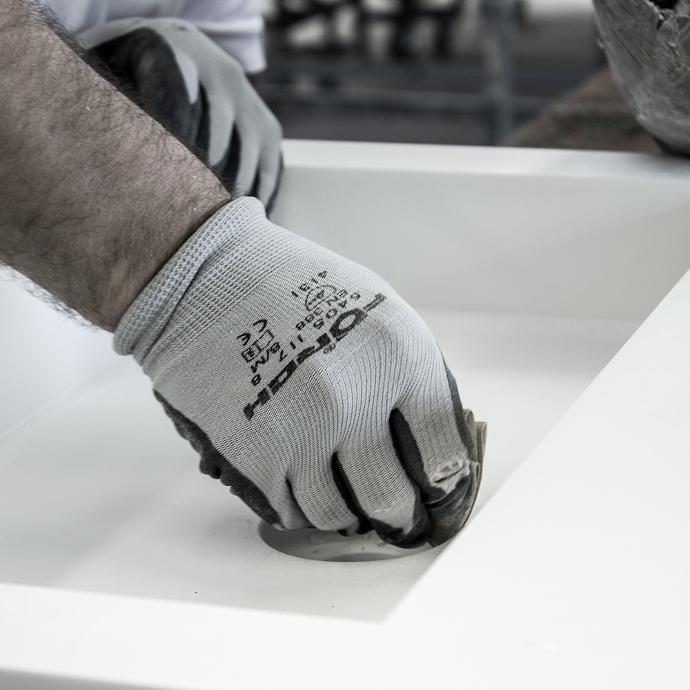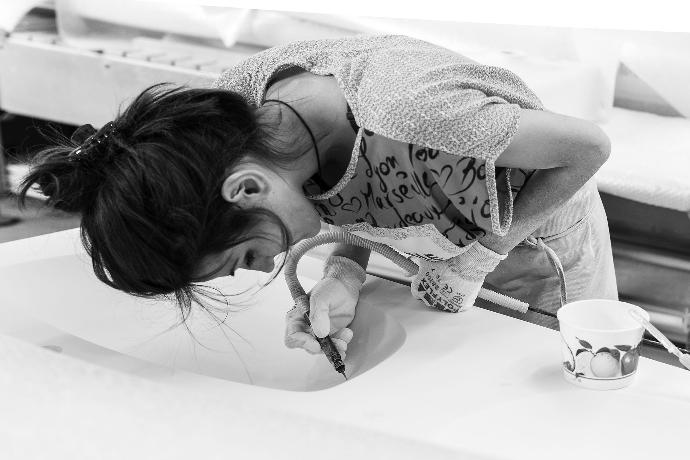 Velluto® biobased
Velluto® solid surface material is composed of 50% minerals (aluminum hydroxide) and 50% polyester resin. 30% of the resin previously of fossil origin has been replaced by polyesters of plant origin deriving from certified cultivations.
It is the very first eco-sustainable solid surface made from materials of plant origin combined with natural inert minerals. Because it is a non-porous, homogeneous material, it is extremely hygienic and therefore very suitable for our basins and baths.
Velluto® is a material that can be tagged as "VOC" and "BIO-BASED" for "Leadership in Energy and Environmental Design" eco-sustainable certification. The material was certified in 2011 for its use of resins derived from vegetable starch and OGM-free maize. The material contains, in fact, more than 12% of these resins when the minimum requirement is normally 5%.
The production of Velluto® provides almost no limitations regarding shapes and is for that reason, among others, a material Not Only White loves to work with. The material naturally has a velvety, soft matte finish and can be easily cleaned with a mild abrasive cleaning agent.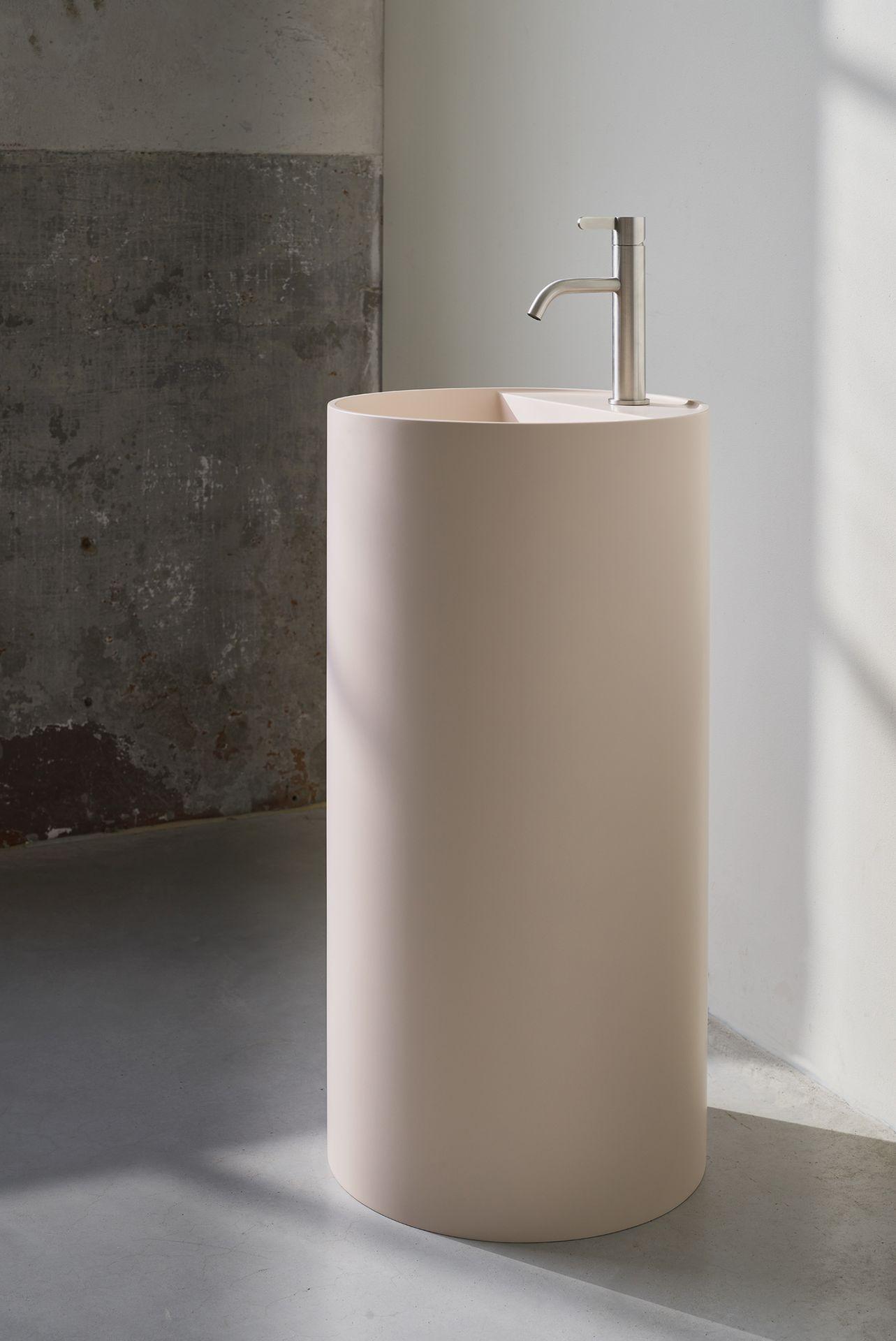 Palette is a two-component acrylic-polyurethane and pigmented paint, which is applied on our Velluto® biobased solid surface collections. On the inside and outside.

The aliphatic nature of the resins give resistance to yellowing over time, while the acrylic component guarantees resistance to thermal stress for use in the domestic bathroom. The spray paint application gives the product a modern technical aspect and a compact and uniform color.

Palette finish is available for our Still, Pose, Nest, Ease, Muse, Fine and Loop collection.



Soft Touch is a tactile finish applied on the outside of our Velluto® biobased solid surface collections.

This results in a chic, sophisticated appearance of the product. With a high haptic value to bring that extra grace into your bathroom.

Soft Touch is available for Fuse, Aim, Still, Pose, Nest, Ease, Muse, Fine, Loop and Axis collection.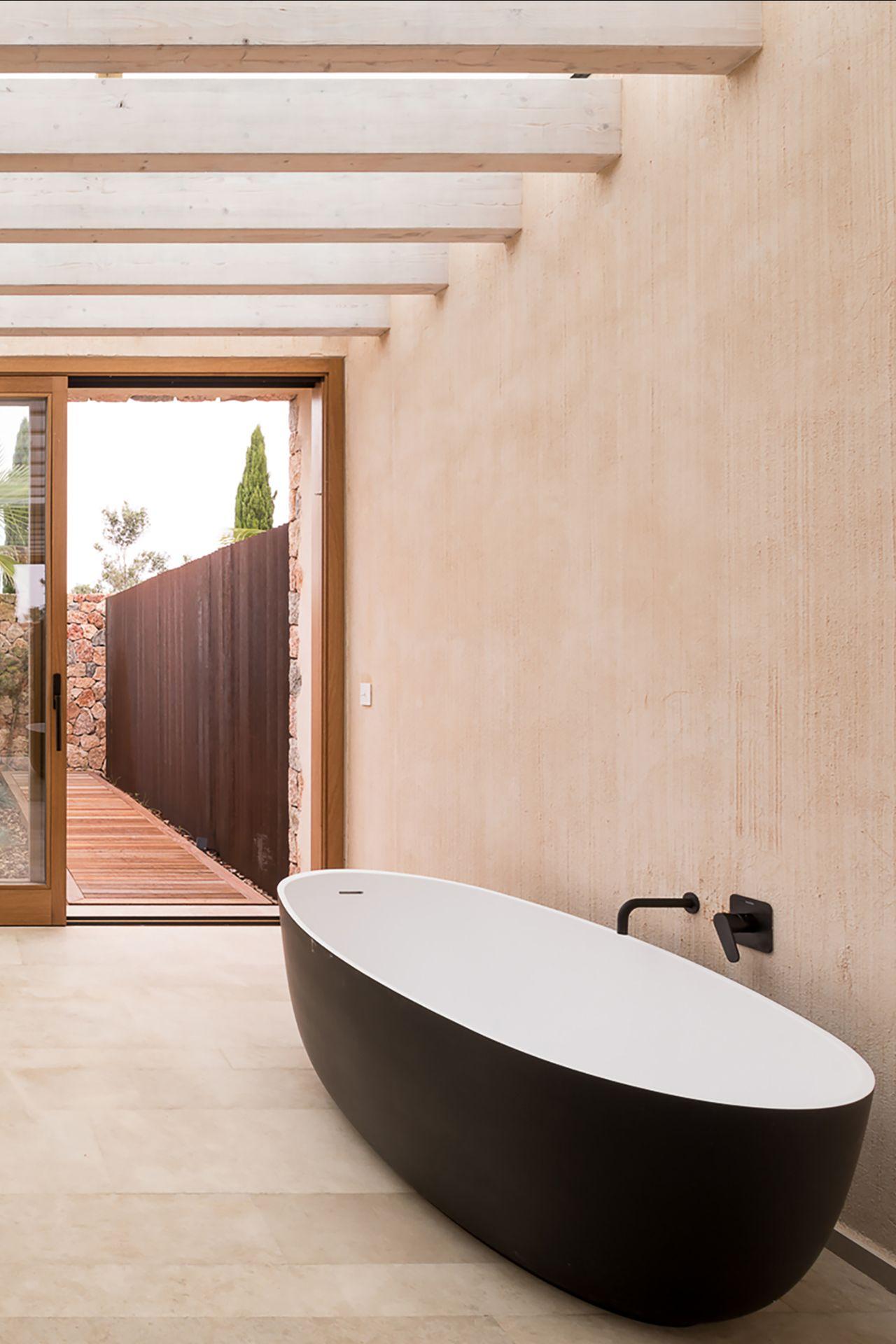 Soft Touch finish consists of 2 layers. The first layer is a two-component acrylic matt base coating with excellent adhesion and light resistance. The second layer is a two-component transparent polyurethane coating with soft touch effect in order to create that distinctive homogeneous, velvety tactile experience.
Discover the different collections in our range of materials and finishes: